The Light Cavalry HAC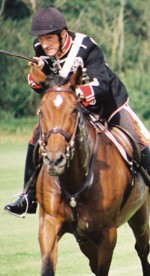 The Light Cavalry originally was formed in 1861 as a further extension to the Honourable Artillery Company's 'variety of Arms'. Amongst the then duties were guarding the Lord Mayor, a role taken over more latterly by the Company of Pikemen and Musketeers of the Honourable Artillery Company.

In 1891 the Light Cavalry was converted to and absorbed into the rapidly expanding Horse Artillery element of the Regiment, eventually becoming part of 'A' Battery HAC, RHA. In two World Wars the four Regiments of guns finally formed produced substantial battle honours for the Regiment.

In 1979 the Light Cavalry was reformed mainly due to the enthusiasm of Major Gerald Flint-Shipman, an officer in the HAC, who became its first commander. Amongst ceremonial duties within the City of London one is to escort the Lady Mayoress, and particularly to provide her 'Travelling Escort' at the Lord Mayor's Show. A dismounted 'Carpet Guard' lines the entrance to the Law Courts to 'protect' the Lord Mayor's coach whilst the Pikemen are otherwise engaged inside on the same occasion.

All this, and other Public Duties around the City of London gives additional presence to the public's view of the Regiment, and is an aid to recruiting for the Active Unit of the HAC. Both Mounted and Dismounted elements of this unit also supply Guards at the polo matches at Smith's Lawn Windsor, during the summer months.

In April 2004, as the celebration of twenty five years since reforming, the Captain General of the Honourable Artillery Company, Her Majesty Queen Elizabeth II, was pleased to inspect the Light Cavalry in Review, at Windsor, and afterwards presented a Royal Warrant enacting the rights and responsibilities of this sub unit of her famous Regiment.

The Light Cavalry horses are stabled at Flemish Farm Windsor, at the Guards Polo Club, and there have the benefit of a full sized indoor Riding School - erected by charitable donations mainly from funds from the City of London. Here Military and Civilian equitation is taught to members of the Honourable Artillery Company and affiliated units.

Military personnel, and those with former military connection, may apply to ride, receive instruction, and exercise the horses in the Great Park.
(Enquiries to: The Adjutant, The Light Cavalry, HAC, Armoury House City Road, London EC1Y 2BQ)

Members of the Light Cavalry take part in a variety of equestrian competitive activities, either as individuals, or as team members. There is a successful Cross country team, The Slashing Sabres, and teams enter for Skill at Arms, sword, lance and revolver, tent pegging, eventing and show jumping.